Phone Systems Built For Business

Providing service, sales, installation and support your all your business telephone system needs.
For decades Centerpoint Digital Services has sold, installed and serviced business telephone systems for businesses just like yours in and around the Metro Atlanta area. We provide installation, sales, service, and repair for business telephone systems.

It takes a lot to keep your business running smoothly. From payroll to payables, you've got better things to do than manage your IP systems. What is the next step once you decide that your business needs a new IP system, or that you need to upgrade to a better system?
You need an expert: someone who can explain SIP, PRI, PBX and all the other TLAs (three letter acronyms). What is VoIP? Is it right for your business? If you've used SIP trunking for years, or you're new to telephony all together, you've got questions.
How can Centerpoint Digital help you?We can help you chose the best options by explaining what various systems and services will maximize your investment.

Some of the great services we offer include:
Telephone System Installation and Service
We can install and repair Samsung, AT&T, Avaya, NEC, Toshiba, Panasonic, and Nortel business telephone systems
Install and Support Business Security Systems
We professionally install informative alarm systems, card access systems, and business surveillance cameras. All of our systems include smartphone apps to keep you connected.
We also provide Cable and Fiber Installation Services
We have a proven track record of installing voice, data, video, and fiber systems. For over 30 years we have provided superior service and support throughout the metro Atlanta area.
Proudly serving all of Georgia for over 35 years:
Acworth, Alpharetta, Athens, Atlanta, Augusta, Austell, Ball Ground, Bartow, Buckhead, Buena Vista, Canton, Carrollton, Cartersville, Chamblee, College Park, Dallas, Dalton, Douglasville, Duluth, Dunwoody, Emerson, Fairburn, Fayetteville, Gainesville, Hiram, Holly Springs, Johns Creek, Jonesboro, Kennesaw, Loganville, Marietta, McDonough, Monroe, Newnan, Peachtree City, Pine Mountain, Roswell, Savannah, Suwanee, Valdosta, Waleska, Woodstock.



Family Owned and Operated
Some companies that support and install IP systems are so large they cannot possibly prioritize your business or employees have such little experience associated with the products they offer they leave you after the sale. That is not the case at Centerpoint Digital. We are reliable, knowledgeable, and responsive. We have flexibility in our scheduling and packages. If you're looking for a company that truly values your business. 770-529-5678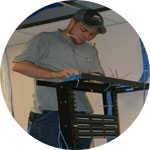 Co-Founder & VP of Operations, Joshua Smith
Licensed by the State of Georgia for Unrestricted Low Voltage wiring by the time he was 25, Josh currently holds 13 certifications on various communications and security platforms. Most recently Joshua completed his NICET certification in 2015 and Kantech Certification in 2016.

Co-Founder & CEO, Duke Smith
With a foundational start in the US Military, Duke has a professional career spanning 38 years in VoIP, PBX and Keysystem telecommunications. He also holds numerous security system design and certifications with over 50 certifications on various communication platforms.
Additional Centerpoint Digital Differences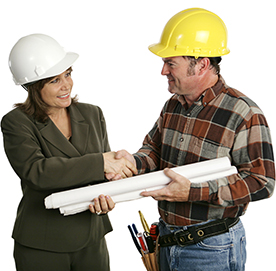 Our staff members carry and maintain numerous certifications & have decades of field service experience.
We have serviced thousands of businesses, implementing and maintaining their business telephone systems, in and around Metro Atlanta. Every day we strive to exceed our customers' expectations.
We recommend that you use only licensed installers. Because in Georgia it's a state requirement. Should the contractor or individual you use does not carry the proper insurance, you're the one that is at risk. We acknowledge that there are those that don't understand how important it is to follow state guidelines while installing cabling or fiber. But using a licensed professional ensures that the services that you paid for are done right the first time. Most MSP providers, computer repairmen, help desk associates and even electricians try to do it themselves in an effort to generate more revenue while often making mistakes during the installation. Do it right the first time and you won't have to fix the issues after the installation.
Our Latest Works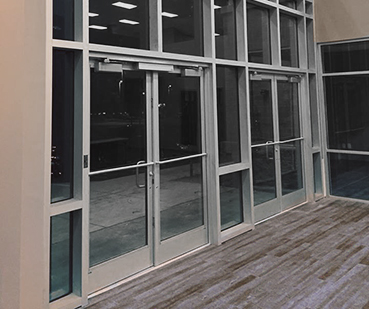 We finished the front entry in December for the new card access system at AquaGuards beautiful new location. We take pride in ensuring that the jobs we complete are not only done right but are also aesthetically attractive. You shouldn't have to look at a tangle of wires when you want a secure building. We believe in taking the extra time to provide the highest quality professional results.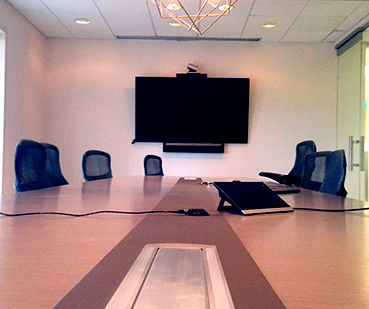 Contacted Centerpoint Digital to install a 75" TV for the video conference center. The installation as fast and professional. No extra holes punched in the wall, no wires showing on the TV. Just a beautifully installed television!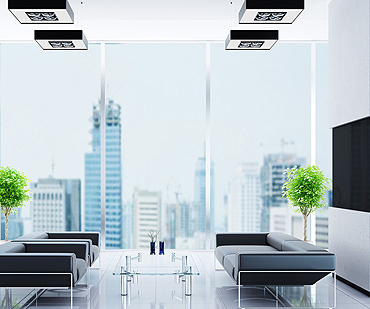 Contacted Centerpoint Digital to replace the existing surveillance system. Poor image detection and failing hardware were both instrumental in hardware replacement. However, the added analytics brought the property surveillance to the next level.